The Citizens' Declaration
In the modern world, we have instant information and shopping 24 hours a day. But in our politics, we are replaying the world of the 18th and 19th centuries. The best on offer is a vote every five years based on a list of promises that no-one is obliged to keep. We believe things need to change.
The world is more complicated and interconnected than ever. Working out what our collective future should need more than a few political party policy researchers. Britain needs to use the untapped resources of its people to imagine a better future.
ALL is a collection of civil society groups that have taken the time to devise a joint call to action. We have talked, compromised and thought hard about getting Britain out of the mess of old-style politics.  You will find much to discuss and review on this site. We want you to join the conversation. Let's work on Britain's national renewal together.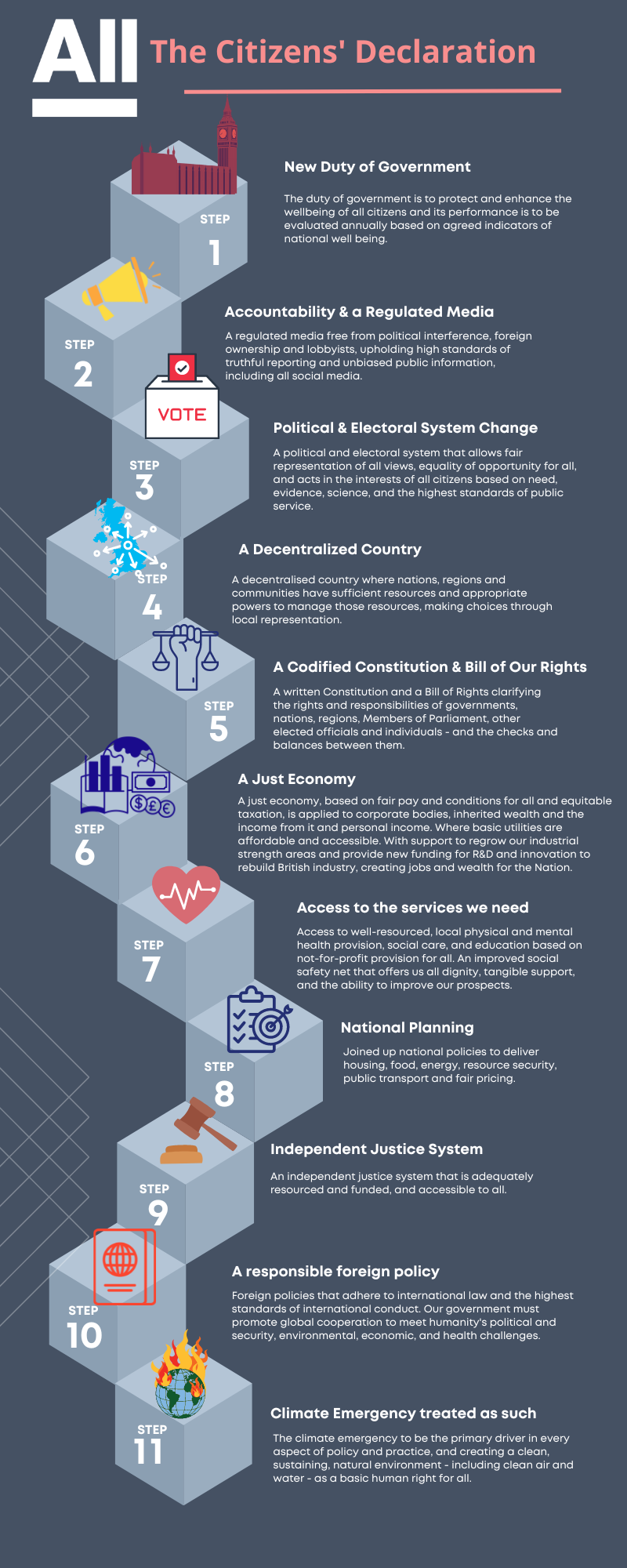 To move forward as a nation, we need a consensus on what politics is trying to achieve for us, as citizens. This requires a practical framework with built-in rights and outcomes and clear responsibilities for government to deliver them.
These twelve points address the critical deficits in our society:
Responsibility
Real Democracy
Justice for all
Fair Chances
A Better Future
After a decade of government retreating to deprive our society of essential services, of basic security, we deserve better. We need to reaffirm that the role of government is to protect and enhance the well-being of citizens. We can only be a prosperous country if our people are going forward. We must not lose sight of what matters – its citizens.
Democracy needs continuous work, it is a process, and it needs to be refreshed to meet the needs of each generation. Britain is a unique collaboration of four nations. We need the best of that heritage to survive and prosper. Each region and place need to be heard. Every vote must matter.
Central to any democracy is living under just laws. The whole legal system, from legislation, and the courts to policing, must ensure that the rule applies to everyone without fear or prejudice. That means adequate resources and competent, uncorrupted officials. 
To get the best people in public office, we need to ensure that everyone has a fair chance to have their best life wherever they live or whatever their background. That covers from the beginning of life, through school, through starting work, what housing is available and what help you receive along the way.
We all deserve a better future. To live in a country where we think about the future – the worst and the best. To ensure that citizens are protected against risks, like pandemics and floods, from changes to the natural systems from human-made climate change. We need long-term thinking and national reserves to manage a complex future.